Overview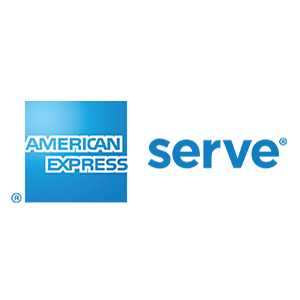 The Serve card from American Express is a reloadable prepaid card that can be used like a conventional debit or credit card to pay in person or online. American Express Serve cards are prepaid, meaning that they do not transfer funds directly from an attached bank account or credit line. Instead, users must place funds on the card using either direct deposit or a third-party service before paying, which means that the card's available funds will be limited to the amount that has been loaded onto it in advance.
American Express Serve accounts include money management tools, online bill payment, money transfer options, and support for the Softcard mobile wallet. American Express also offers a Serve mobile app that enables users to pay bills, check balances, and transfer money to other Serve users. Serve is accepted at all merchant locations that accept American Express, but Serve users do not need to be approved for an American Express credit card account in order to use Serve.
American Express Serve Prepaid Fee Breakdown
American Express Serve is free to purchase online but may cost up to $3.95 if bought at a retail location. Serve charges a monthly fee of $1, but this fee is waived for accounts that link the account to Softcard, add $500 in a month, or make a single direct deposit to the account in a month. The monthly fee is also waived for all New York, Texas, and Vermont residents. American Express does not charge users to load the card, but third-party fees may apply if the card is loaded from another credit card, debit card, or cash load card. There is no ATM withdrawal fee for MoneyPass ATMs, but non-MoneyPass ATM withdrawals will incur a $2.50 fee in addition to third-party ATM fees. Non-U.S. transactions will be assessed a 2.7% fee as well.
There are no transaction fees for domestic transactions with American Express Serve, meaning that users who set up direct deposit or Softcard can use the service essentially for free. This makes its pricing very competitive with traditional checking accounts.
American Express Serve Card Fees
At a glance
Launched: 2011
Location: New York City

Issuer: American Express
Website: serve.com

Phone number: (800) 954‑0559
E-mail: N/A
Featured User Reviews
I love the American Express Serve card. You can withdrawal money at a ton of ATMs for no fee, which can be really helpful. The monthly fee is only one dollar, which is really good. Also, unlike a lot of other cards like this, it doesn't have a minimum balance or anything. You can load it by direct deposit or by getting a card at a grocery or convenience store.

-Nick Tucci, CardHub
I have had a dispute going with serve for about 2 weeks now. 3 different reloads I did suddenly disappeared from my account. I had two $200 reloads and one $140 reload at total of $540. I called them and all they could do is \"look into it\" I was on hold for a total of 6hrs that day. I spoke with regular agents, supervisors, and a manager. None of them could help me. They just said \"yes clearly there is money missing but we believe its because of the merchants where you got the reload done, they have some sort of POS failure.\"

On the site it shows that my reloads were successful. But the money is not on my account. I paid cash for every transaction and I won\'t get that money back.

About the dispute. I have called them finally 11 business days later and they told me a dispute will take up to 4-6 weeks. On the phone they told me 10 business days.

They have $540 of mine that just suddenly disappeared.

Serve is the worst prepaid card company I have ever used. I am warning everyone who hasn\'t had an issue with them yet, please be careful and go somewhere else. Serve by American Express does not care about protecting their customers. There is no way to contact the dispute team. And I am starting to think that there is no dispute team. Stay away!!!!

-Ms. Ellis, Credit Card Insider
What other reviewers are saying
Ripoff Report
There are roughly ten negative Amex Serve Card reviews filed on Ripoff Report. The most common complaints mention fund holds, excessive requests for personal information, and poor customer service. Complainants describe unreliable fund transfers at all stages of processing, including loading the card, paying with the card, checking card balances, and opening or closing Serve accounts. The complaints are more or less equally distributed between 2012, 2013, and 2014.
The Better Business Bureau
American Express Serve does not currently have its own Better Business Bureau (BBB) profile. Instead, the BBB forwards all Amex Serve-related complaints to its general American Express profile. American Express as an overall entity currently has an "A-" rating with the BBB and has received 2,616 complaints in the past three years. It is unclear how many of these complaints are related to American Express Serve, but it is exceedingly likely that the overwhelming majority are related to American Express's other longstanding consumer and merchant services.
Other sources
American Express Serve has received an overwhelmingly positive review on NerdWallet, but it averages a 3.5-star rating on CardHub and a 2-star rating on Credit Karma. The negative reviews on these websites echo those found on Ripoff Report, citing poor customer service, payment delays, fund holds, and account reviews.
Our take
From a cost perspective, American Express Serve is one of the few prepaid cards that acts as a viable alternative to traditional bank accounts and payment cards. Its $1 monthly fee is manageable for any cardholder, but even this fee is incredibly simple to avoid. No transaction fees or load fees means that the card won't be a passive expense for most users, and it ultimately offers the same payment convenience of traditional debit and credit cards.
This affordability appears to come at a cost, however, as complaints persist about Serve's customer service, unexpected holds, and glitchy fund transfers. These problems can be especially damaging for prepaid card users who operate on tight monthly budgets or rely entirely on the funds contained in the card. For this reason, Serve can never truly compete with a free or low-cost checking account.
Still, Serve is one of the most affordable prepaid cards available. When compared to other cards of its type, it's an easy recommendation and possibly the best in its class. Like most prepaid cards, however, it's not quite yet a viable alternative to a basic checking account.
Have you used an American Express Serve prepaid debit card? Tell us about your experience in the comment section below: