Clover POS Overview
Clover is a proprietary, cloud-based point-of-sale system offered by First Data and First Data resellers. Clover Network is the name of the startup that originally developed the Clover POS system, but First Data acquired the company in December 2012. The Clover Station debuted in 2013 and has since become a flagship product for First Data. In fact, First Data CEO Frank Bisignano has stated that Clover represents First Data's vision for the future of small business analytics and a way for First Data to compete with analytics-oriented payment processing startups like Square.
Unlike its competition, Clover does not run on popular consumer tables like iPad or Android devices. Instead, the product requires the purchase of a specific touchscreen tablet that can only operate Clover point-of-sale software. Similarly, Clover is always sold with an attached merchant account from First Data or a First Data reseller. Clover therefore cannot be used with a company that is not either First Data or a reseller of First Data, and it cannot be reprogrammed when switching from one First Data-affiliated processor to another. The basic Clover model, Clover Station, comes with a tablet, stand, cash drawer, and thermal printer.
Clover offers several tablet-based POS systems, including the original Clover Station, Clover Go, Clover Mini, Clover Mobile, and Clover Flex. They require an on-site internet connection.
Frank Bisignano is the chairman and CEO of First Data, and John Beatty was the co-founder and CEO of Clover.
Resellers have received more than 100 public complaints regarding costs and service and the company has no profile with the BBB.
Clover offers two pricing plans: Register Lite, which costs $14 a month, and Register, which costs $29 per month. Both plans offer keyed-in transaction rates at 3.5% + $0.10.
Clover hardware can range from free to more than $99 per month, and the cost of the Clover app store is determined by the reseller.
Clover offers a mobile card reader that is fully EMV-compatible, and is more versatile than a basic phone line card swiper. However, Clover is more expensive than similar products.
We located more than 100 negative Clover reviews, mainly due to the merchant account contract associated with the Clover system, which has received little consideration in this review.
Clover is a popular iPad-based POS system but has received many complaints due to hardware malfunctions and unhelpful customer support.
The Better Business Bureau does not maintain a dedicated profile for Pearl Payments at this time, so we will not be including the BBB rating in this review until the BBB establishes a dedicated profile for Pearl Payments.
Clover is the primary point-of-sale solution offered by First Data (Fiserv) and is sold through First Data (Fiserv) official channels, First Data (Fiserv) sales agents, and the vast army of resellers.
Accordingly, Clover sales experience will vary depending on how closely the sales representative mimics the First Data (Fiserv) sales approach.
Clover's service complaints are classified as service issues rather than sales issues.
Clover rates as a good POS option with a variety of possible outcomes, but it may be a faulty POS system with poor customer support and pricing from a low-rated provider.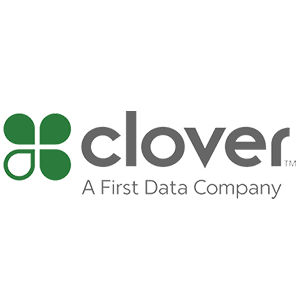 At a glance
Launched: 2013
Location: Sunnyvale, California
Processor: First Data
Website: clover.com
Phone number: N/A (support provided by processor)
E-mail: N/A (support provided by processor)
Features
Clover offers four separate hardware options: Clover Station, Clover Mini, Clover Mobile, and Clover Go. The company's basic "2000 Service Plan" for Clover Mini and Clover Mobile is capable of accepting credit, debit, EMV, and NFC payments, issuing refunds, managing tips, opening tabs, calculating closeouts, syncing via the cloud, and supporting multiple users with various levels of access. Under Clover's "Pro Service Plan," all four hardware configurations provide support for multiple tender types, order ring-ups, tax charges, custom discounts, custom items, and customer management on top of the features available in the 2000 Service Plan. As noted above, all Clover products are sold with an attached merchant account through First Data or a First Data reseller.
Clover's central innovation is the Clover App Market, which enables merchants to add custom features from third-party developers for variable monthly fees. These features include (but are not limited to) accounting software integrations, gift and loyalty programs, sales analytics, employee hours management, subscription management, inventory management, multi-store reporting, and email receipts and marketing. These apps can be easily downloaded to a merchant's Clover hardware and are regularly updated via automatic cloud syncing.
Clover Station is the company's original product, consisting of a touchscreen tablet, pivoting stand, cash drawer, and receipt printer. It is best suited for retail environments out of the box, but it can be customized with accessories like barcode scanners, kitchen printers, weight scales, and PIN pads.
Clover Mini a touchscreen-enabled smart terminal, is the newest product launched by the company. It's essentially a condensed version of Clover Station consisting of a single countertop unit with a touchscreen POS system and built-in receipt printer. It does not come with a built-in cash drawer, but it does support cash transactions, and it is intended as a future-proof replacement for a traditional land line credit card terminal.
Clover Mobile is a standalone tablet designed for quick-service restaurants, restaurants with tableside ordering, mobile professionals, retailers who accept payments in line, or off-site events. Like the Clover Mini, it functions as a stripped-down version of the Clover Station for merchants with limited counter space or the need to move from spot to spot when taking payments.
Clover Go is a mobile phone payment processing solution that plugs into the headphone jack of an iPhone or Android device. It is capable of accepting EMV and magnetic stripe cards and includes features like emailed receipts, tipping, sales reporting, and custom employee permissions.
What merchants are saying
At this time, there are very few Clover merchant reviews that specifically address the product itself. This is because many dissatisfied Clover users have filed complaints against their credit card processors rather than against the Clover product, making their complaints difficult to find and sort. Conversely, there are a number of complaints that offhandedly mention Clover despite the fact that the merchant's issues are more directly related to their processor's contract terms or customer service. It is therefore difficult to assess merchant feedback related to the function and pricing of the Clover system, but there are some general trends that can be spotted.
Positive reviewers tend to praise the simple setup of the Clover hardware and the intuitive nature of the Clover point-of-sale software. The user interface is frequently described as "sharp" or "pretty," and there are very few complaints related to hardware malfunctions or software glitches. The devices sync automatically over a Wi-Fi or 3G connection and are preconfigured to handle the basic transactional needs of a business. Merchants also praise the product's affordability in comparison to conventional point-of-sale products like Micros or Aloha, but they note that Clover is more expensive upfront than a cheap Android tablet with a third-party POS app.
Negative reviewers mention the limited number of features built into the base app, often complaining that the add-on features found in the Clover App Market essentially represent an undisclosed cost. Merchants also mention pricing and customer support problems through First Data and its resellers, which is a non-negotiable condition of the Clover system. As an extension of this issue, the fact that Clover is proprietary and non-reprogrammable makes it a serious commitment for any business. At an average price of roughly $1,000 per station, Clover can turn out to be a hefty sunk cost if it doesn't end up being a good fit for a merchant's location.
Bottom Line
Clover represents a step up from First Data's conventional credit card equipment in terms of design and versatility. It's However, merchants need to be aware that the system is only compatible with merchant accounts through First Data and First Data resellers, and that the First Data entity they ultimately choose (rather than Clover) will be responsible for per-transaction pricing, monthly pricing, equipment pricing, contract details, and customer support. Clover can be a good fit for retail and restaurant merchants, but any business owner should be sure to diligently research the product before committing their business fully to the First Data network.
Have you used Clover at your business? Rate the product at the top of this post and tell us about your experience in the comment section below: