Overview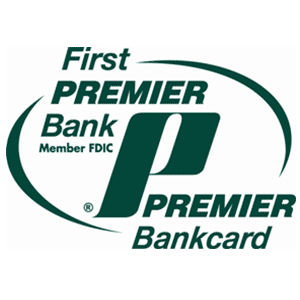 The First Premier credit card (also known as 1st Premier and Premier Bankcard) is a credit card marketed to applicants who have extremely bad credit. Unlike a secured card or a prepaid debit card, the First Premier card functions as a traditional credit card, allowing users to spend money up to a set credit limit and then pay their balance off at the end of each month. First Premier advertises that the card "may be able to help build, rebuild, or reestablish credit history if on-time payments are made to all of your creditors and account balances are kept low relative to the credit limit."
First Premier formerly offered two different credit cards (the Aventium card and the Centennial card), but it appears to only issue one MasterCard credit card at this time. This card comes with a $300 credit limit (subject to variation based on creditworthiness) and does not offer any kind of rewards or cash back program.
First Premier Fee Breakdown
The First Premier credit card charges a one-time $95.00 processing fee before approval, a $75 annual fee for the first year (which drops to $45 in the second year), an interest rate of 36%, a monthly fee of $6.25 starting in the second year, a fee of either $6 or 5% per cash advance (whichever is greater), a 3% per-transaction fee for foreign currency, a late payment fee of up to $38 per incident, a return item fee of up to $35 per incident, $3 statement fee, and a fee of 25% of the credit limit increase each time the company unilaterally increases the cardholder's credit limit. There may also be other fees depending on conditions not listed below. All of these fees are charged to a card that initially has a limit of $300.
First Premier Credit Card Fees

At a glance
Founded: 1929
Location: Sioux Falls, South Dakota

Issuer: First Premier Bank
Website: Numerous, including firstpremierbankcardgrey.net, premiercreditcardsf.net, and premiergoldcards.net

Phone number: 800-987-5521
E-mail: n/a
What other reviewers are saying
Ripoff Report
There are over 550 negative First Premier reviews on Ripoff Report dating back to 2002, and it appears that these complaints have been filed regularly over that period of time. Complainants primarily cite excessive fees, nondisclosure of terms, poor customer service, billing errors, deceptive sales tactics, and aggressive collections practices. In many cases, it appears that the reviewers had a firm understanding of fees charged by First Premier in the first year of service, but did not anticipate the increase in fees that comes in the second year. The company does not appear to have responded to any complaints.
The Better Business Bureau
The BBB currently awards Premier Bankcard an "A" rating and accreditation despite 1,001 complaints filed against the company in the last three years. The bulk of the complaints (716) are related to billing and collection, with product and service issues coming in a distant second (238). The company has resolved just over 80% of the complaints to the customer's satisfaction, while the remaining disputes were resolved to the dissatisfaction of the customer. The BBB has kept a profile for Premier Bankcard since March 2003.
Other sources
First Premier currently has a 1.4 out of 5 rating on Consumer Affairs, a 1.7 out of 5 rating on Credit Karma, and a 3 out of 5 rating on CardHub. CreditCardForum.com gave the card a negative review, calling it "nothing but a classic horror story." NerdWallet also wrote a scathing review of First Premier titled "Please Don't Get a First Premier Credit Card."
Featured User Reviews
This company doesn't just charge high fees they are total crooks. Thieves who found a loophole in the system that allows them to legally steal money from good people trying to lives back on track.

Case in point:
Lost my business which resulted in my credit being tarnished beyond bad. Trying to rebuild my credit I applied for and got a FP credit card. I always paid my outstanding balance in full and ahead of time. Without warning FP blocked my account and disallowed me from using it even though I had no outstanding balances or late fees. When I contacted them, a rep said they blocked my account because I made 'excessive payments' and until I proved to them in writing I actually made these payments my account remained blocked.

I refused to do that because I couldn't believe what I was hearing: being blocked for making numerous payments early? I had to be dreaming. I wasn't, in fact my nightmare with First Progress was just beginning.

2 months after this fiasco I get a letter from FP saying I owe them a $39 annual fee. A month later I get yet another letter from them saying I now owe them $39 fee plus $37 late fee.

Not wanting to mess up my credit even further I paid FP the money they stole from me and told them to close my account permanently.

I know when your credit is just awful and you have to depend on sharks to get you back on track it can be a bit scary. I suggest you open a secured credit card instead. But if you can't, whatever you do, DO NOT get a credit card with First Premier. They are thieves. This is an unethical company. YOU HAVE BEEN WARNED!!!!

-Lode Loyens, NerdWallet
The First Premier Bank of Sioux Falls SD specializes in damaging one's credit scores while gouging them with obscene fees and rates for credit cards.

For starters, these greedy banksters primarily target low income individuals (especially single women living in section 8 projects) with little or no established credit histories. They dangle a $700 Master Card credit line "deal" card that comes with an initial $175 annual fee for the first year, coupled with a whopping 36 percent APR (annual percentage rate). After the first year is up, they get a $49 annual fee plus a $14.50 per month "Monthly Service Fee (which is actually $174 addition charges annually)" for allowing the card holder recipient to effectively kiss the bank's ring.

There are also many other insulting stipulations, such as: "Each time your credit account is eligible for and approved for an unsecured credit increase, a Credit Limit Increase Fee in the amount of 25 percent of the amount of the credit limit increase will be assessed to your Credit Account. For example: If approved for a $100 credit increase, a $25 Credit Limit Increase Fee will be assessed to your credit account. This fee is automatically assessed upon approval of your credit limit increase, which could be as soon as your credit account has been open for 13 months."

To add insult to injury, a new account holder will have already reached 25 percent of their available credit utilization ratio, which will go above 30 percent with the first purchase over $35. As such, the card holder's FICO and Vantage scores, respectively, will be lowered on top of the points lost for the initial Hard Inquiry to their personal credit report.

In sum: First Premier Bank is a shameless blood sucker and should be boycotted by anyone who understands shady or unethical business practices that often do far more harm than good, and generally speaking, make certain that the Have Not's will continue to have even less.

-Jacheart, Ripoff Report
Our take
First Premier is a bottom-tier option for all cardholders regardless of credit score. It charges very high fees and interest rates and offers a very low credit limit with no rewards or cash back. The company explains its pricing by claiming that it needs to charge higher fees to offset the losses associated with its poor-credit user base, but this explanation does not make its pricing any more appealing. To make matters worse, many customers also report poor customer service, aggressive collection tactics, and occasional billing errors. All things considered, this card seems more likely to drive drive users further into debt than to repair their credit scores.
If your credit score is extremely low, you can still build credit without resorting to a card as expensive and demanding as the First Premier Credit Card. Secured credit cards can help you rebuild your score and limit your exposure to harsh penalties and high interest rates. If you need a simple payment card, then you can qualify for a checking account or even a prepaid debit card with minimal hassle. According to nearly every third-party resource we found, almost any option is better than First Premier.
Have you used a First Premier credit card? Tell us about your experience in the comment section below: