Overview
Launched in 2003 by Def Jam founder Russell Simmons, the RushCard is a reloadable prepaid card that is marketed as a money storage and spending tool for users who do not maintain traditional bank accounts. The RushCard does not require a credit check or minimum balance and can be used just like any other payment card at retail locations and online. Users can reload their RushCards in person at Walmart, Green Dot, Western Union, MoneyGram, and other participating retail locations, or via direct deposit from their employer or the government.
The RushCard offers two pricing plans. The Unlimited plan charges a monthly fee and allows for unlimited transactions, while the Pay As You Go plan charges no monthly fee but costs $1.00 for each transaction. The fees under the Pay As You Go plan are capped at $10.00 per month. The RushCard is issued by MetaBank and is a product of UniRush, LLC, a Cincinnati, Ohio-based company. RushCard can be reached by phone at (866) 787-4227 or by emailing [email protected]
RushCard Fee Breakdown
[su_tabs]
[su_tab title="Activation Fees"]There is a variable one-time fee that will cost between $3.95 and $9.95 the first time you load money onto the RushCard. [/su_tab]
[su_tab title="Monthly Fees"]Under the Unlimited plan, there is a monthly fee of $5.95 if the card is loaded via direct deposit and $7.95 if the card is loaded by a method other than direct deposit. There is no monthly fee under the Pay As You Go plan.[/su_tab]
[su_tab title="Transaction Fees"]Under the Pay As You Go plan, there is a fee of $1.00 charged with each purchase. This fee can only apply to a maximum of ten purchases in a given month for a maximum of $10.00 per month. Cash withdrawals are free at MoneyPass ATMs, but withdrawals made at out-of-network ATMs or over the counter at retail locations will cost $2.50 per withdrawal. There is also a fee of $0.99 for each transfer made from one RushCard to another.[/su_tab]
[su_tab title="Reload Fees"]RushCard does not charge any reload fees for any of its reload methods, but third-party charges may apply for non-direct deposit reloads.[/su_tab]
[su_tab title="Inactivity Fees"]Under the Pay As You Go plan, a $1.95 maintenance fee will be charged after 90 days with zero transactions or reloads. There is no maintenance fee under the Unlimited plan.[/su_tab]
[/su_tabs]
[su_spoiler title="Full RushCard Fee Schedule" style="fancy"]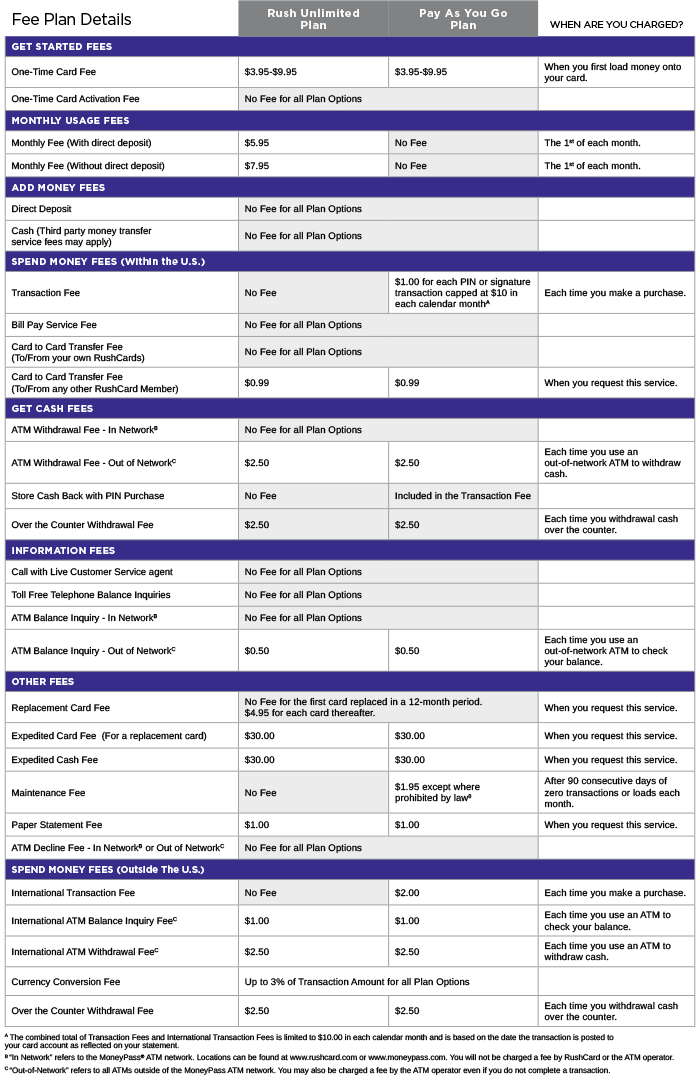 [/su_spoiler]
RushCard Features
Early Direct Deposit
RushCard advertises that it can provide users with their direct deposit payments up to two days before their employers would typically process the deposit. According to the company's website, "Many employers and government agencies notify us of direct deposits before your 'official' day scheduled for payment. If we receive early notice, we may load your direct deposit earlier than your 'official' day scheduled for payment." RushCard does not guarantee that this service will always function as indicated, so cardholders should not rely on it too heavily.
RushCard Mobile App
RushCard offers a free mobile app for download through the App Store, Google Play, and Amazon. The RushCArd app enables users to deposit checks to their RushCards, schedule bill payments from their RushCards, transfer money from their RushCards to other RushCards (for a fee of $0.99), and track their RushCard spending. Users can also receive text and email alerts regarding their RushCard transactions.
Standard Visa Fraud Protection
RushCard users are covered by Visa's Zero Liability card policy, the same policy that protects traditional credit cardholders. This means that RushCard users will not be held liable for payments made with their stolen card information. This policy covers online purchases as well as in-store transactions.
RushCard Customer Service
RushCard offers 24/7 customer service by phone or email to all of its users, and most reviewers state that they are able to reach a representative without issue. The vast majority of negative RushCard reviews do not mention bad experiences with the company's customer support, but there are still a significant number of complaints that mention unhelpful customer service agents, slow resolutions to problems, and call centers full of non-native English speakers.
In cases of fraud, theft, or card loss, it appears to be common for RushCard customer service reps to request personal information from the caller. Many complainants report that they did not receive a resolution to their issues for days even after supplying the requested information. Another common complaint cites difficulty working with representatives who do not speak English capably and seem to be reading from scripts. Generally speaking, RushCard's customer service appears to be about average to below average in quality.
What other reviewers are saying
Ripoff Report
Over 110 complaints have been filed on Ripoff Report against either "RushCard" or "Rush Card." Common complaints include missing funds, fraudulent payments, difficulty getting replacement cards, unreliable payment schedules, and poor customer service. These complaints have been posted with regularity over the past five years, indicating that the issues described are relatively consistent over time. None of the complaints have received responses from RushCard on Ripoff Report.
Better Business Bureau
The Better Business Bureau does not maintain a specific profile for RushCard. Instead, it aggregates RushCard complaints on the UniRush, LLC profile. UniRush currently has a "B+" rating overall and has received 694 complaints in the last three years. 542 of the complaints were related to problem or service issues, 98 had to do with billing or collection disputes, 27 are due to advertising or sales issues, 26 were related to delivery, and one was a guarantee or warranty issue. RushCard resolved 151 complaints to the satisfaction of the complainants, while the remaining 543 either were resolved to the complainant's dissatisfaction or did not receive a final evaluation from the complainant.
Google Play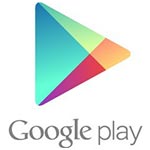 The RushCard app is currently showing an average rating of 4.4 out of 5 on the Google Play store based on 6,933 total ratings. Positive reviewers mention the convenience of the RushCard and its app and state that it more or less replaces a conventional bank account for them. Negative reviewers cite issues uploading check images through Ingo, login problems, software errors, and fraudulent payments. The RushCard app has been downloaded between 500,000 and 1,000,000 times.
App Store
The RushCard app is showing an average rating of 4.5 out of 5 on the App Store based on 157 total ratings. Positive reviewers cite the convenience provided by the app, the ability to manage payments and transactions easily, and the early deposit schedule as major perks. The few negative reviewers mention blocked payments, difficulty using Ingo, and poor customer service experiences. There are no complaints in the App Store that mention serious software malfunctions.
Other sources
Credit Karma gives the RushCard an average rating of 3 out of 5 based on five reviews. The card also receives an average rating of 3 out of 5 on CardHub based on 132 reviews, while CreditCardForum summarizes the card with the following: "Is it the most expensive prepaid card on the market? No, there are some others which cost more. But on the flip side, there are also plenty of others which can cost a lot less."
Featured user reviews
I applied for a RushCard because my oldest daughter had it, and a lot of times, the money's there earlier, so the bills are paid. It's been really easy with the direct deposit option, and the customer service has been wonderful with any issues I've had. I've always had a good experience with RushCard so I'd recommend them.

-Kennise, Consumer Affairs
My husband has had his rushcard for about one year. On one occasion while we were out to dinner someone used his card number to make $100 worth of purchases from Amazon. He receives alerts when his card is used. He called card services right away and contacted Amazon. Amazon actually stopped the payment and the 100 was credited back the same day. Well while he was away someone used his card once againg for 177.29 at a cvs in a totally different township, while his card was in his possession. He was told to file a dispute. He was told he would get a provisional credit which was a lie. Two days later after he filed the dispute he was told his case was closed. What investigation did they actually perform. It is all a scam and now he has to wait for a new card because unfortunately he has another pending direct deposit which has actually been applied to the old card. He was told it would transfer once he gets his new card so its a matter of just waiting until he gets the new card. Lets see what kind of scheme they come up with next. So he does have a police report and they now want him to send a rebuttal. Its all a scam and its so obvious because i have read so many other complaints. Russell Simmons should be ashamed to represent such a shady company…

-julie, Ripoff Report
Our take
In general, it's hard to recommend the RushCard. The card collects fees from users on either a monthly or per-transaction basis without offering any real perks or improving users' FICO scores. It does not compare favorably to a traditional checking account in either cost or versatility, and it appears to provide average to below-average customer support. There are better prepaid account options available, and even some secured credit cards could be a better choice.
The RushCard does get a few things right. It has reduced its fees in recent years to remain competitive, and it offers free reloads, free bill pay options, free cash withdrawals (at MoneyPass ATMs), and a free mobile app that averages solid scores in the two major app stores. Even so, consumers are advised to look elsewhere for banking alternatives or other prepaid solutions.
Have you used a RushCard? Tell us about your experience in the comment section below: